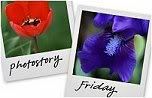 We took Brayden to Chuck E. Cheese last weekend. He played his little heart out! His favorite ride was a mini-car that sways back and forth with a steering wheel, a passenger and a dog manikin! Brayden was hooked-immediately. He had quite the "driving" experience.
He started out extremely excited that he could drive with company aboard!
Here he is getting acquainted:
As Brayden was trying to concentrate on his driving-the passenger evidently starting talking which was clearly breaking Brayden's concentration. Brayden attempted to
"shush"
him:
The passenger who we will just call
"Chuck"
still
could not stay quiet. Brayden started yelling at him-which I presume from this picture was something like
"I can't think about driving when you keep talking!"

Chuck continued to talk, as Brayden quickly exclaimed:
"Do I have to come back there?"

Chuck then started to sob-
uncontrollably.
Brayden quickly felt bad and decided to give him a kiss.
Chuck thanked Brayden for giving him some love and Brayden exited the car
a happier little boy
, ready for some cinnamon sticks, pizza, and his sippy :-)
(haha)!

Your expressions are too funny Brayden-you are so fun to watch, and I am glad that you embrace life in the happy and fun way you do. You melt our hearts everyday.
We love you-Mommy and Daddy.