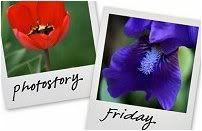 Hosted by Cecily and MamaGeek
This is a little long for my first PhotoStory Post-but it's a great story I promise...stick with me here :-)
My husband and I have been together since 1995....we met at Walmart in high school where we both worked...I moved to Florida with him shortly after graduation and 7 years later- married him in 2002.
Shortly after finishing college, his police academy, and all those other fun things you try to accomplish before having children-we figured we were finally ready to be parents. Three or so years later-still no luck! It got to the point where I could barely attend my own nieces and nephews birthday parties because I was convinced I would never get pregnant-it was emotional and scary, and I prayed often about it. You see...I have
Systemic Lupus
,
Ulcertaive Colitis
,
Hypo-thyroid Disorder
-
Rheumatoid Arthritis
-
Type II diabetes
and
Osteoporosis
-and shattered an L4 vertebrae a few years ago from the osteo. and underwent a new
Kyphoplasty surgery
. So...naturally we knew the odds were against us-so all we could do was pray...and we did...ALOT!
This brings us to January 23, 2007-the day I found out I was
FINALLY
pregnant! We excitedly scheduled our first OB-Dr. Appt and could not wait to hear our little Snowbabies heart beat! When we arrived, we sat with the Dr. for about a 1/2 hr discussing the many complications we could face in order to carry full term. The Dr. ended our conversation with this statement...one I will never forget he said: "I'll be honest with you-you are like a case we discussed in med school, one that we never thought we would really have but we will do an ultrasound to see if this is even a viable pregnancy at this point". After talking more about my kidneys he responded to us with "you two may be forced to make a decision you don't want to make regarding this pregnancy". Ugh-okay.... (
STUNNED).
I am pretty quick lipped at times when people are overly rude or lack tact and consideration...and even I could think of nothing to say in response to what I had just heard. I just nodded my head in silence and walked into the other room to prepare for this first sonogram/ultrasound. A few minutes after the test started, he informed us that there was no heartbeat. He said sometimes you can hear one this early, and sometimes not-he could not tell us why at this point and time. The Dr. said because of my conditions and long term prednisone use, my kidneys would probably not be able to handle the pregnancy. I was still trying to take in all of his other disheartening statements and I can remember thinking to myself "why would God finally bless us with a baby, and then take it away so fast"? I had never felt more lost or confused or defeated in my life. He continued to inform me that they would do some 24 hr. urinalysis testing to detect the level of protein that was showing up that day. We got in the truck and I broke down sobbing. I was rambling, not making much sense, and was very sad-so was Ron. Needless to say-we
DUMPED
that Dr. :-) I obtained a new Ob/Gyn the next day and they scheduled a second appt for me on
Valentines day of 2007
. Ron unfortunately had to work that day and could not come with me to the appt. I was excited but fearful that I would still hear no heartbeat, and that I would have to go it alone that day. The nurse came into the room and started the sonogram. The sound was not on, and just as I was about to panic...she asked me if I could see the flicker on the screen! She then turned on the volume-and it was the best sound-
hearing my first babies heart beating on Valentines day
! I giggled, cried, giggled, my belly was bouncing from my giggles and it was hard to stay still. It was one of those great moments in life you never forget. I called Ron as soon as the appt was over, and told him the good news! There was still protein in my urine, but we were told that my kidneys should be able to handle the pregnancy with close observation and testing-
Whew!


So...later that night...Ron gave me this wonderful piece of Tiffany's jewelry. He said it was a heart for Valentines Day-the day I heard Braydens heartbeat for the first time. I wore it, and have continued to wear it to every Dr's appt since. I feel it brings me good luck...and it has so much sentimental meaning behind it too!


After talking with this new Dr. I decided to stop taking all of my current medications I was on because nobody could really tell me if they would affect Brayden or not because they were so new (Humira and Forteo). They encouraged me to take a small dose of predisone, but after I did my own research on it-found that taken in the first three months of pregnancy can cause malformations and a cleft palate. I then stopped all medications I was currently on. I laid in bed unable to move for a few weeks and in pain-but it was better for the baby as crazy as that sounds! After my first trimester-I started a very low dose of prednisone and baby aspirin (for the Positive Lupus Anticoagulant issues I was having), and I started to really enjoy my pregnancy-feeling a sense of calm that God would take care of us and see us both through this pregnancy. I had more faith than I have ever had in my entire life.



Sept. 5, 2007...my beautiful healthy baby boy was born via scheduled C-section. They told us to prepare ourselves for poor lung development and complications at birth due to the Diabetes. We braced ourselves for it-but he was delivered screaming like a champ. Our wonderful Dr. said "I think his lungs are developed Mommy-those screams tell me he has strong lungs"-and he did. That is also a statement I will never forget! He truly is a miracle. The odds were so against the both of us-and I am continually amazed that God blessed us in such a profound way.


My mother asked me a few days after Brayden was born if I was okay because I was a little teary here and there, wondering if it was the "baby blues" or "postpartum" (the naturally concerned Mommy that she is). I looked at her and started to cry and said " I never knew I would love him THIS much".

When Brayden is all grown up (tear, sniffle)...and his wife is going to have their first baby-I will pass my bracelet onto her to wear to every Dr's appt just as I have. Ultimately we know that God is why we have Brayden, but a beautiful timeless bracelet with such a great story behind it will make for a wonderful family tradition.
God Bless you and yours!
(I promise my next PhotoStory wont be so long...thanks for hanging in there for our Baby Story).
Ron-Shannon & Brayden