Daddy and Brayden have a tickle game they play...it's called
RIBS
! Daddy tells Brayden that he's hungry-and then pretends to eat his ribs...which Brayden
LOVES LOVES LOVES.
Then after the giggles subside...Daddy tells him he especially likes ribs made in the
PIT
-and goes for the armpits. It really is endearing, and
funny as all get out
to watch! I gut laugh every time they play this game...and Brayden only giggles like this for Daddy.
It's so sweet.
I am going to miss these moments as Brayden gets older and grows out of this toddler fun stage. Hope these giggles make you laugh so hard
your ribs hurt
-God knows they do mine!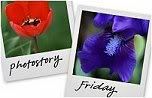 Hosted by Cecily and MamaGeek